Recently, I spent about thirty minutes (that estimate may be on the low side) arranging the apps on my phone: I couldn't find what I was looking for.
All of my apps were organized within folders: Audio, Books / Magazines, Finance, Productivity, etc., and I was happy with my categorical organization, largely fabricated by the phone itself, which suggested names for folders when I merged similar apps together. My aim was to avoid thumbing through screen after screen of apps, but I soon discovered a problem with my method. I couldn't find what I was looking for. I was constantly opening the wrong folder when looking for less commonly accessed apps. I got used to going to a certain place to open something, but if I added a new app, or a new folder, the locations shifted and threw a wrench into my efficiency.
So, in an effort toward even greater efficiency, now, they're all in alphabetical order. As an English teacher, it's a hierarchical format to which I am intrinsically attracted. Anyway, now, I often have to scroll across multiple screens to get what I want; however, sometimes the name is not obvious (for example, the
Merriam-Webster
app is called Dictionary). Actually, it seems obvious after I write it here...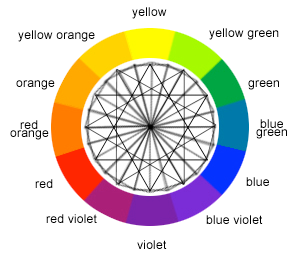 A color wheel.
Anyway, I saw that some acquaintances had organized their apps according to a color spectrum. It looked colorific, but it was not for me. For one, I didn't have so many apps; I tend to retire apps that go unused for very long. Secondly, I was sadly underrepresented in certain colors.
Angela just downloads apps and leaves them where they lie, although she moves more frequently used apps to the first screen.
Whatever your app fancy, our phones--our little buddies that we take into the bathroom--are serious parts of our lives. We dress them up with decorative yet protective cases. They're smooth and warm, and we hold them in our hands almost everywhere we go, and we fall asleep gazing into them. They have personalities and they promise us the unexpected.